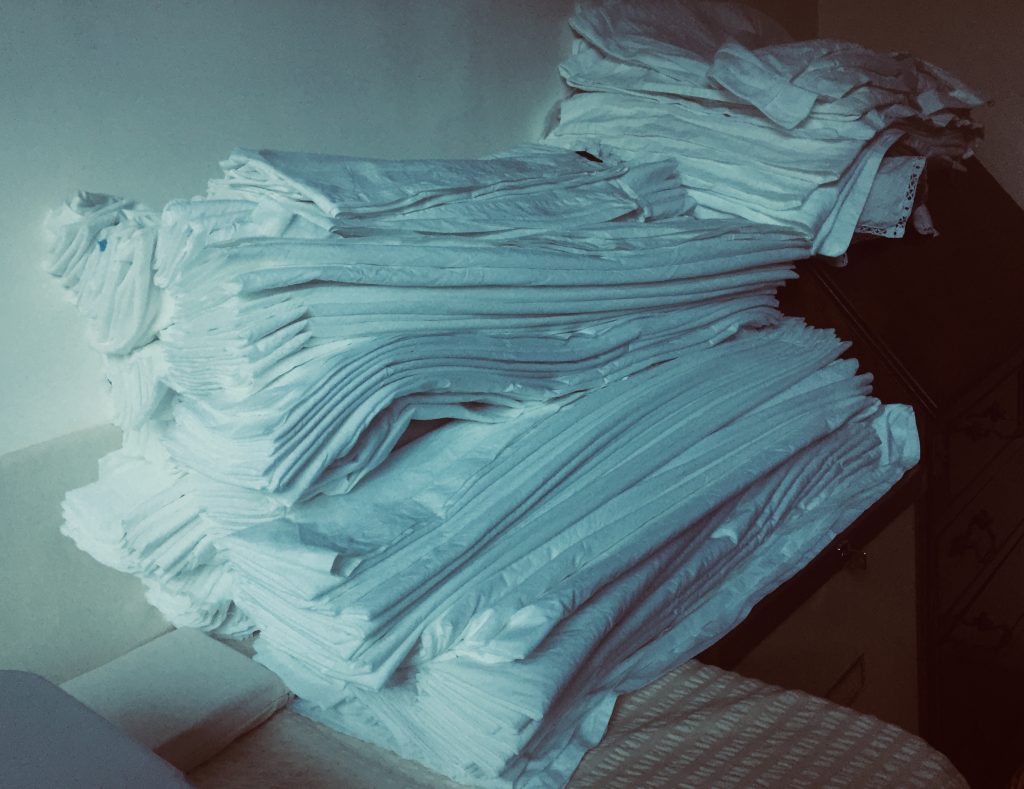 Thursday, August 2nd, 2018
Last Monday, after a busy weekend, I was faced with this pile of folded sheets ready to be ironed. It is the laundry generated during the weekend, from Friday evening to Sunday morning, and it does not include 22 napkins and goodness knows how many towels and bathmats. I had tackled a similar-sized pile a few days earlier.
Reluctantly, therefore, I took the decision that I would have to do what other B&Bs and hotels do, which is to impose a minimum stay of two nights for those who book to stay on a Friday or a Saturday. Such a policy really does go against the grain, as I hate to make it even more difficult than it is already for guests to find somewhere that will accept them for just one night at weekends. The problem, as I am discovering, is that one-night stays on Saturdays outnumber those on weekdays by a vast amount, and I have had far more bookings at weekends than I ever imagined, even in my wildest dreams. The pressure on my drains, my equipment (even though I now have two large-capacity washing machines in addition to my small domestic one) and my sanity, is just too much and I must now limit the one-night stays to manageable amounts. I also find that one-night stays are too fleeting to provide a satisfying hosting experience. I do like to get to know my guests a little — and this is not possible if they go off to an event soon after checking in, return late at night and leave immediately after (or sometimes even before!) breakfast. Bressenden is more than a pit stop. It is worth taking time to savour its atmosphere. Many people who come here say they don't want to leave. Travellers on business will still be able to stay one night from Sunday to Thursday inclusive. My diary service will let me re-open one-night bookings temporarily at any time and at short notice if I find myself with too few bookings or if I have empty slots to fill. And it is always worth asking me directly if you try to book for one night but find that the calendar won't let you. I may be able to make an exception if I'm not too busy!